It being the Great British springtime we had planned last night to venture out on a family bike ride. The kids both got new bikes for Easter and Grace has finally started to get the hang of it (Ewan not so much. He's a work in progress. At least he peddles forwards now. It's a start). Alas late work commitments for Kendo meant we never got there.
Instead I decided I would be brave and venture into the loft to do battle with the 12x12 stacks. I have so much patterned paper and cardstock I've accumulated for scrapbooking over the last 7 year (yikes!). Some of it I've had since I started scrapping. I know I will never use it, so it's been relegated to a pile for the kids to have crafty fun with. Sadly, my scrapping space at the moment leaves a lot to be desired, it has to be said.
You might recall that it used to be in the conservatory and went through several incarnations:
Alas it didn't always look like the last photo and as usual became a dumping ground for all the stuff that didn't have a place elsewhere.
Being that I then didn't use it for months on end, and in the interests of fairness for DH my conservatory craft room was dismantled and became what is affectionately know as "the conserva-shed". Now it's an eclectic mix of tool room, potting shed and general all-round crap storage.
So, where has that left the scrap stash? Well, it was banished to the loft (once it had been boarded out and lagged). Everything is set up in there in something of a craftroom style and its not that bad a space really. It's just lacking in light (there is no roof light or anything) and its a pain in the rear end to get up to (fold out loft ladder which give me the heebie-jeebies!).
As well as paper sortage I've also recently had a big sort out of all our digital photos and collected them into once place (from the various external hard drives/old laptops etc they were lurking on). From looking through them something began glaringly clear. Poor Ewan is definitely the victim of "Second child syndrome". There aren't anywhere near as many photos of Ewan as there are Grace. Also as a consquence of that (and of time commitments) there aren't anywhere near as many scrapbook pages for Ewan's album as there are for Grace's. There's also a huge number of annual holiday pictures that have never yet graced a scrapbook layout (despite the best intentions), not to mention other events like Christmasses, and friends weddings.
With the state of my scrapbook albums in mind it was quite fortuitous that Shimelle is shortly to begin a new scrapbooking class on just that subject.
How to work on getting albums done from beginning to end, how to organise them, how to deal with getting a coherence to them.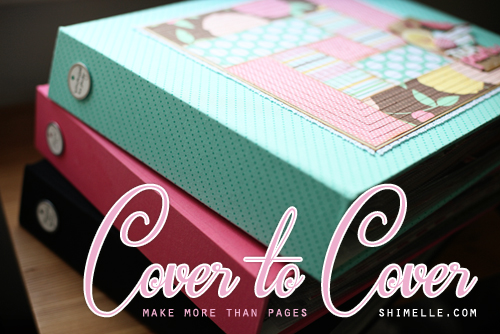 I'm all signed up and just waiting for the start date to I can (hopefully) start to make:
a) some sense of the layouts I currently have (WAY more than I thought I had when I looked through them yesterday)
b) some way to get them more accessible. They are all in the loft and never looked at at the moment. Such a shame for all that work to not be seen.
c) some incentive to get some more pages of Ewan's book done, and some of our holiday photos scrapped.
d) some incentive to take more photos. I used to take hundreds of picture, every time we went out I took pictures. Unfortunately I got out of the habit so many adventures have sadly been missed so will go unrecorded. Such a shame.
As I mentioned in the last post I've made some changes to other commitments I had which should hopefully free up a little time for this project.
TTFN